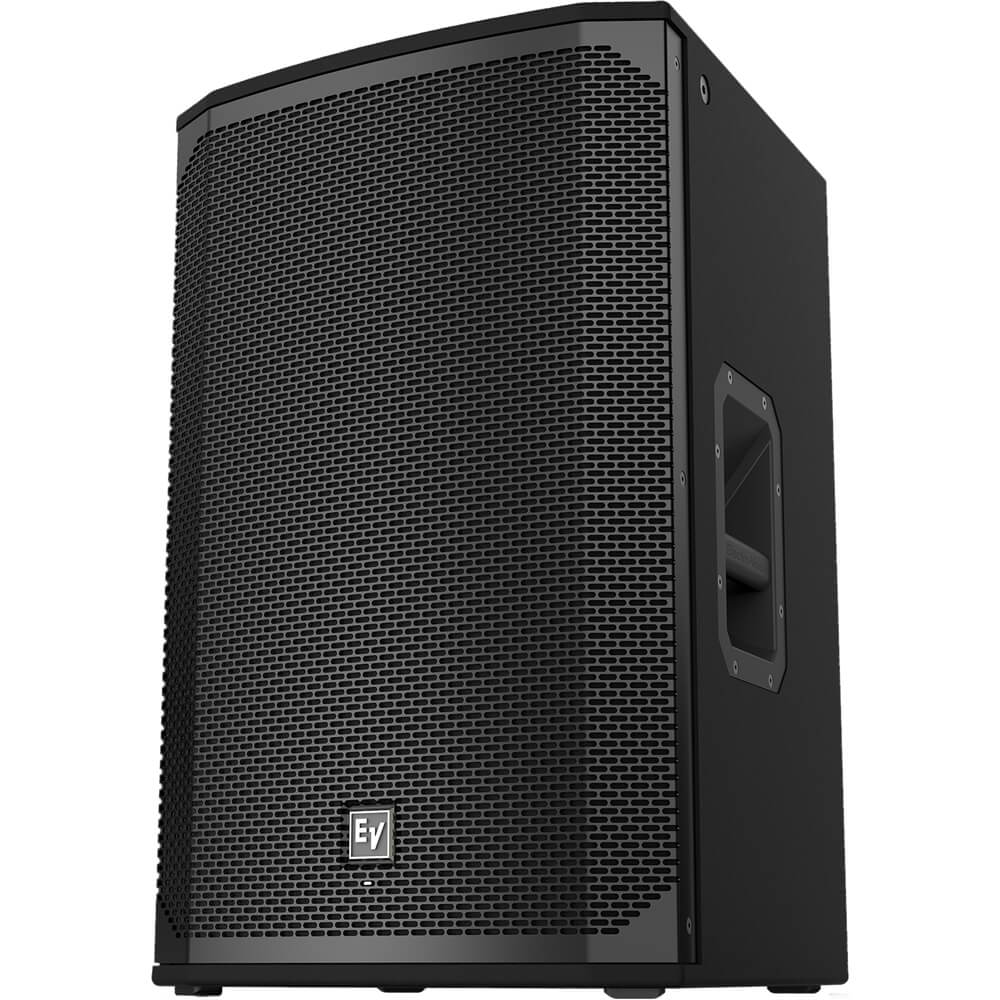 EVF01U306417
£549
Our staff will be in touch with an estimated time of arrival.
Features
EKX-15: 1600 W (peak), 132 dB peak SPL utilizing high-sensitivity transducers designed and engineered by EV.
EV-patented Signal Synchronized Transducers (SST) waveguide design provides precise and consistent coverage.
Lightweight, compact 15-mm wood enclosure with internal bracing, and durable EVCoat finish.
Eight M10 threaded mounting points, aluminum pole mounts, and all-metal handles.
90° x 60° pattern for best coverage on mid-size stages. 40° monitor angle with rubber feet.
Specifications
Frequency Range (-10 dB): 50 Hz - 20 kkHz (Full Space Measurement)
Weight Net: 51.15lbs (23.2kg)
Depth: 16.89" (429mm)
Width: 17.01" (432mm)
Height: 26.97" (685mm)
Axial Sensitivity (SPL, 1 W @ 1 m): 96dB (Full Space Measurement)
Connector Type: Dual NL4
Coverage (Nominal -6 dB) H: 90°
Coverage (Nominal -6 dB) V: 60°
Crossover Frequency: 1.6 kHz
Enclosure Material: 15 mm, plywood with EVCoat
Family: EKX
Frequency Response (-3 dB): 75 Hz - 18 kHz (Full Space Measurement)
Grille: 18 AWG steel with powdercoat
HF Transducer: DH-1M 1-inch titanium compression driver
LF Transducer: EVS-15M 381 mm (15 in)
Max. SPL/1m (calc): 132dB
Maximum SPL: 132dB (Maximum SPL is measured at 1 m using broadband pink noise at rated peak power rating)
Minimum Impedance: 7.2O
Nominal Impedance: 8O
Passive Power Handling: 1600W peak
Power Handling (Continuous / Peak): 400 W/1600W
Power Rating: 1600W
Powered or Passive: Passive
Recommended High-Pass Frequency: 50Hz
Shipping Weight: 62.17lbs (28.2kg)
Speaker Type: Full-Range, two way
Suspension: (8) M10 threaded mounting points
Woofer Size: 15inch
We have loads of
great customer reviews
Rich Tone Music Ltd,
64-82 Broadfield Road,
Sheffield,
S8 0XL
United Kingdom
Open Mon to Sat from 10am - 5pm
Email Newsletters & Exclusive Offers
Receive weekly news of special offers, discounts, new products and promotions.
You can unsubscribe at any time.
Rich Tone Music Ltd is a company registered in England with company number 05285423 and VAT Number 870 3855 09